People over profits
"Food sovereignty is the right of peoples to healthy and culturally appropriate food produced through ecologically sound and sustainable methods…"

– Declaration of Nyéléni, Mali, 2007
Food sovereignty is the right of communities to democratic control over their own food and agriculture systems, including both production and consumption choices.
Many forces interfere with the right to a people-centered food system including, but not limited to, corporate consolidation and corporate control of the food system, policies that favor the wealthy and powerful, and the application of inappropriate technology like genetic engineering and capital-intensive production systems designed to disrupt labor.
We believe that policies like the Farm Bill and practices like technological innovation in the food and agriculture system need to put people and livelihoods first. Small-scale farmers and farmworkers worldwide as well as consumers should have access to and control over healthy food and sustainable production systems. We further believe that large corporations who have power over the food system and the people whom they employ and buy from must act responsibly.
VICTORIES
Hershey: Be Fair
Building on and in conjunction with the Raise the Bar campaign, FWP engaged in the campaign to tell Hershey that buying cocoa from sources that exploit child workers is not acceptable. As part of this campaign, in addition to letters sent directly to Hershey's, nearly 5,000 people wrote letters to Whole Foods Market asking them to stop carrying all Hershey's brand products. Shortly after, Whole Foods Market announced that they would do just that, leading in turn to Hershey announcing they would certify all cocoa in coming years. FWP considers Hershey's commitment only a partial victory and continues to monitor progress toward a truly fair supply chain.
PAST CAMPAIGNS AND ALERTS
End Child Labor in Cocoa
It's been nearly 20 years since chocolate industry leaders pledged to end child labor, but reports keep on showing that child labor is on the rise. Not only that, it's getting more dangerous. At the root of this problem is poverty: chocolate is a $100 billion per year industry, yet West African cocoa farmers live on less than $1.00 per day.
Add your name to the petition and tell big chocolate companies it's high time to address the root causes of child labor in their supply chains.
---
Small-Scale Farmers Still Waiting for Pandemic Relief
Billions of dollars in federal aid have passed through the Coronavirus Food Assistance Program (CFAP), but it hasn't reached the farmers who need it most. Small-scale farmers and farmers of color have had the least access to aid, despite being the hardest hit by COVID-19. Now there's a new House bill that could change that.
Send a letter to Congress to ask for their support of the Local and Regional Farmer and Market Support Act today.
---
Tell Congress: Support the Future of Farming
Despite recent aid packages, small-scale farmers, and especially young farmers, first-generation farmers, and farmers of color continue to be unable to access much needed COVID-19 relief.
So far, federal aid has been a one-size-fits-all model that has left out small-scale farmers and those growing fruits and vegetables—the foods we eat every day.
Tell Congress to act now to ensure that the young farmers and farmers of color who make up the future of farming get the COVID-19 relief funding they need.
---
Protect Cocoa Farmers, Not Just Shareholders, from COVID-19
As the current COVID-19 pandemic spreads around the globe, it is hitting hardest those already lacking access to the basics. Before the pandemic, cocoa farmers in West Africa were already struggling on an average of just $0.78/day. That kind of extreme poverty is no accident. It's how Hershey's managed to extract $1.15 BILLION in profits in 2019. That's more per share than an average farmer earned in a week. Those profits and the already dire conditions for cocoa farmers means that it is high time Hershey's pay cocoa farmers fairly and commit to more emergency relief for cocoa farmers.
---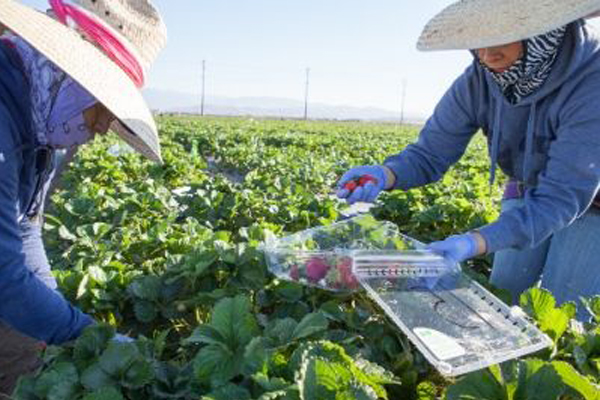 Tell Congress: COVID-19 Relief Must Include Farmers, Food Workers
Small-scale farmers and food workers are essential to feeding our communities. That is why any future stimulus and pandemic relief bills passed by Congress must include their needs.
So far, stimulus money is at risk of funding more corporate agribusiness as usual. Instead, relief money should invest in community members, not corporations.
---
Tell Costco: Time to Support Small-Scale Cocoa Farmers
Climate change is not the only threat to cocoa farmers. Low and volatile prices are threatening farmers' livelihoods in the short-term. Costco can have meaningful impact on the livelihoods of cocoa communities and the environment.
---
Join the Fight for a Fair Farm Bill
The Farm Bill is a huge piece of legislation that guides close to $100 billion in spending each year in the food and agriculture system. It affects farmers and farming systems not only in the U.S. but all around the world and unfortunately too much of this money goes to support unhealthy food and destructive practices and not enough supports regenerative systems. It is renegotiated every five years and this is the year. Let Congress know you support a fair farm bill.
---
Stand with Coffee Farmers- Oppose Nestle's Agribusiness Expansion!
Nestle has announced plans to build a $154-million-dollar coffee processing plant in Veracruz, Mexico and increase Robusta coffee production.
Add your voice the chorus of coffee farmers who are saying NO Instead, they are calling on the government to support farming communities and biodiversity, not Big Food and more monocrop plantations.
---
Tell Fair Trade USA to Respect Farmworkers' Rights, Decertify Fyffes' Melon Plantation
When you pick up a fair trade melon, or any fair trade product, you expect that it means the farmers or farmworkers who grew it were treated fairly. Unfortunately, that's not currently the case. This spring, Fair Trade USA decided to certify multinational Fyffes's Honduran melon plantation Suragroh despite ongoing human and labor rights violations.
---
Keeping Farmers in Poverty is Not OK
Small-scale cocoa farmers live in poverty as large multi-national chocolate companies profit. Chocolate is big business and U.S. consumers spend over $20 billion on chocolate each year. But the money is not reaching farmers. West African cocoa farmers live on less than $1/day as they farm just a few hectares on average. Mondelez, one of the largest chocolate companies with brands including Cadbury, Oreo, Chip Ahoy, and Toberlone has developed its own cocoa program called Cocoa Life, but has not incorporated a guaranteed fair price for farmers as a component nor does it include a democratically administered premium to give farmers control over needed funds to improve their farms and communities. In 2017 over 10,000 consumers signed a petition asking Mondelez to do better for farmers and their families and communities. While companies like Mondelez continue to undercut farmers, you can support fair brands that work directly with farmers in fair trade relationships.
---
Synthetic Biology is Not "Natural"
As consumers, we trust that when a company calls itself natural and sustainable, its products won't contain ingredients produced via genetic engineering or synthetic biology. When Method's parent company, Ecover, announced that it would be introducing a new ingredient, synthetic biology-derived algal oil, into its products Fair World Project joined allies in asking Ecover and Method to halt use of this unregulated, experimental extreme genetic techniques.
---
Make Fair Pricing Part of Strategy to Eliminate Child Labor
The International Cocoa Initiative (ICI) calls itself the "leading organization promoting child protection in cocoa-growing communities." With members like Mars, Hershey, Mondelez, Cargill, and Nestle, they have influence and resources backing them, yet they have not made sufficient progress in in eliminating and reducing child labor in cocoa and they have not included fair pricing as part of its strategy. Fair World Project generated over 10,000 letters to ICI asking them to do more to ensure fair prices for farmers and received this unsatisfactory response. Fair World Project continues to advocate for fair trade principles in the cocoa industry.
---
Join the Call for Seed Freedom and Food Democracy
Prime Minister of India, Narendra Modi, invited President Obama to attend India's Republic Day celebrations on January 26th 2015. In anticipation of this visit and in the context of the two countries' varying views on seed freedom and food democracy, activist, author and physicist, Dr. Vandana Shiva penned an open letter to Indian Prime Minister Modi and President Obama on Seed Freedom and Food Democracy. Over 12,000 people signed on to our petition to support Dr. Shiva's letter.