---
FOR IMMEDIATE RELEASE
June 4th 2019
Leading Fair Trade Watchdog and Advocacy Organization Publishes
18th Issue of Bi-Annual For A Better World Magazine

Fair World Project's Latest Publication Focuses on Real Meals Campaign to Redirect Institutional Food Purchases to Socially and Environmentally Responsible Resources

PORTLAND, OR – Leading fair trade advocacy group, Fair World Project, has published the 18th issue of For A Better World magazine. This Spring-Summer 2019 edition of the free bi-annual publication focuses on the Real Meals Campaign, launched in 2018 by the Community Coalition for Real Meals, to get the three largest food service management companies, Compass Group, Aramark, and Sodexo, to shift the millions of meals they serve each year to food that protects the environment and fairly compensates farmers, fishers, and workers. Fair World Project as an organization is part of the coalition.
"Food is at the center of our daily lives and what we grow, who grows it, and how it is grown has a tremendous impact on the world around us," explains Dana Geffner, Executive Director of Fair World Project. "Around the globe, on every continent, people are coming together. We are not waiting on a better policy or a new standard. Instead, we are building the future we envision today."
This issue includes inspiring stories of the people around the world who are working every day to transform the corporate-controlled food system into one that nourishes the health of farmers, workers, eaters, and the planet. A feature piece explains how the company Lotus Foods is working to improve the health conditions of the mostly women farmers who grow rice by shifting to a regenerative approach to how this global staple is grown. There is also an update from the farmworkers behind Familias Unidas por la Justicia, who have gone beyond organizing for their rights in Washington state and are developing their own cooperative.
For A Better World is 100% advertisement-free and is available in 1500 natural food stores, fair trade shops, and other locations throughout the U.S. and Canada. In addition to being free to consumers, the publication is also available in larger quantities to stores, offices, or schools who would like to distribute this free educational resource. To view the latest issue online, visit: https://fairworldproject.org/category/publications/issue-18/
###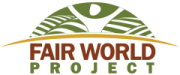 Fair World Project (FWP) is a non-profit organization whose mission is to protect the use of the term "fair trade" in the marketplace, expand markets for authentic fair trade, educate consumers about key issues in trade and agriculture, advocate for policies leading to a just economy, and facilitate collaborative relationships to create true system change. FWP publishes a biannual publication entitled For A Better World. For more information, visit: http://www.fairworldproject.org.
---