Nespresso, a subsidiary of Nestlé, is now a certified B Corporation. Nespresso is perhaps best known for using celebrity spokesman George Clooney to give a high-end cosmopolitan look to their single-serve coffee pods. Or perhaps they're best known for a recent string of human rights violations on farms that grow their coffee, from child labor to wage theft and abuse of factory workers. Either way, the brand seems a surprising fit for B Corp's claims to certify "Business as a Force for Good."
This is not the first time that B Corp has been criticized for the gap between their marketing claims and the reality of their standards. But the moment offers an opportunity to evaluate what those standards are, and if they are a meaningful tool for addressing the exploitative norms under which businesses currently operate.
Nespresso Single-Use Coffee: Hardly a "Force for Good"
Nespresso is Nestlé's single-serve coffee line, providing coffee capsules with high-end branding to coffee drinkers at home as well as in offices and hotels. Single-serve coffee as a product seems incompatible with a vision for business that's good for people and the planet, as B Corp certification promotes, given the huge amount of waste created.
Nespresso's actions over the years are a prime example of greenwashing. Instead of grappling with the actual sustainability of their single-serve product and business model, they have attempted to make the case that their capsules are more environmentally friendly. The plastic pods used by companies such as Keurig for their single-serve coffees have a dismal environmental profile, generating enough waste, by some accounts to circle the globe 14 times. But it's hard to make a leap from there to being actively good for the planet just by substituting aluminium for plastic waste.
In their marketing, Nespresso has chosen to emphasize people's personal responsibility for recycling their packaging, despite the fact that their capsules aren't accepted by standard household recycling programs. Per Nespresso's calculation, just 28% of Nespresso pods are currently recycled, with the rest ending up in landfills around the globe (others have questioned this number, calculating the likely recycling rate closer to 5%). An article in the Guardian newspaper calculated the impact this way:
"​​with a conservative estimate of 14 billion capsules being sold each year, and 0.9 grams of aluminium per capsule, that means 12,600 tonnes of Nespresso aluminium end up in landfill annually, enough for 60 Statues of Liberty."
Waste disposal is not the only issue with single-use aluminium pods. Mining aluminium is a resource-intensive process with toxic by-products. In 2018, among plenty of fanfare, Nespresso partnered with Rio Tinto to launch Aluminium Stewardship Initiative ASI-Certified "sustainable aluminum" for their pods. Rio Tinto is a mining giant dubbed "a poster child for corporate malfeasance" for their lengthy rap sheet of environmental, labor and human rights violations as well as corruption and bribery. Despite the big announcement, buried in recent sustainability reporting, Nespresso has admitted that they did not achieve their target to source 100% ASI-Certified aluminum by the end of 2020. That's yet another play from the corporate greenwashing playbook: Make a big announcement, then quietly fail to meet it.
Nespresso's Record of Human Rights Violations
Nespresso's parent company Nestlé has a long record of human rights violations, from their notorious formula debacles that have stretched over half a century to child labor, deforestation, land grabs, and more (for more on Nestlé's business practices, listen to Season 1 of For a Better World podcast). Much reporting does not distinguish between Nespresso and Nestlé for sourcing data.
However, in just the last two years, since Nespresso began their path to B Corp Certification, there have been multiple investigations finding human rights violations in Nespresso's supply chains. In 2020, investigative reporters found children as young as 8 picking coffee on seven Guatemalan farms selling to Nespresso. Then in 2021, Brazilian labor inspectors found multiple instances of wage theft on plantations selling to Nespresso, part of a pattern of violations and human rights abuses on certified farms.
Nespresso is part of the growing group of corporations developing their own Voluntary Sustainability Standards for themselves to meet, instead of opting to meet existing independent standards. Their Nespresso AAA Sustainable Quality™was developed with Rainforest Alliance, a certifier who has repeatedly been critiqued for low standards and for how they have backed multinationals in covering up abuses in their supply chains. Nespresso's AAA program does not have publicly available standards available for analysis to define how they reach their three pillars, Quality, Productivity, and Environmental and Social Sustainability.
Their most recent sustainability reporting notes that "More than 93% of Nespresso permanent coffee is now sourced sustainably through its AAA Sustainable Quality™ Program, up from 84% in 2014, including 48% certified coffee, up by 9 points since 2014." It is not clear from Nespresso's reporting what portion of their coffee is part of that "permanent" lineup that meets their sustainability standards and which percentage is purchased on spot markets (for context, it is not uncommon in cocoa sourcing to see brands speaking of their child labor pledges for their "direct" supply chains, while omitting the crucial fact that these supply chains only account for a fraction of their sourcing). All in all, Nespresso has previously been noted for their lack of transparency in their operations, described by coffee industry expert James Hoffman as "a black box of a company."
And this is the business model that is now B Corp certified as "a force for good™."
B-Corp Certified Falls Short of its Claims
The non-profit organization B-Lab established B-Corp certification to distinguish businesses using "business as a force for good." They claim that "Certified B Corporations are leaders in the global movement for an inclusive, equitable, and regenerative economy. Unlike other certifications for businesses, B Lab is unique in our ability to measure a company's entire social and environmental impact."
Yet despite B Lab's claim that their certification is "transforming the global economy to benefit all people, communities, and the planet," their standards fall far short of that sort of transformational change. They also fall short of the basic principles laid out in the United Nations Guiding Principles on Business and Human Rights (UNGPs) , which spell out businesses' fundamental responsibilities to prevent, address, and remedy human rights violations in their operations.
This is not a new critique. Indeed, advocates for business human rights have spent years underscoring the inadequacy of B Corp certification to address fundamental human rights. In the next section, this article will examine those standards and what that looks like in the context of Nespresso.
How B-Corp Standards Work
B-Corp certification scores companies based on a lengthy two-part self-assessment. The first part has a questionnaire evaluating companies on the following topics, each category worth approximately 40 points, with a total of 80 out of 200 required for certification.
Governance – includes governance structure, mission, corporate accountability, and transparency.
Workers – includes compensation and benefits, training and employee development, health and safety, job flexibility. There are questions on worker ownership, but no points given for union representation or freedom of association.
Community – covers a vast range of topics including job creation, diversity and inclusion, workforce development, employee volunteerism, local involvement and sourcing, suppliers and product sourcing, supply chain poverty alleviation (including fair trade certifications), and charitable giving.
Environment – encompasses overall environmental stewardship, including facilities, emissions, and supply chain and distribution where relevant.
Customers – evaluates companies whose products are designed to address a particular social problem, such as health or educational services.
The second part of the assessment is an unscored list of "Disclosures", which arguably focus on the most important issues from a human rights perspective. The Yes/No questions in this section range from whether the company supports workers' rights to organize and collectively bargain, uses child labor, violates Indigenous peoples' rights, as well as land and environment based issues. There is also a section for disclosures on suppliers, featuring just four short questions, asking whether the multinational has suppliers who use child labor, prison labor, or forced labor; operate in conflict zones; have practices that have substantial negative impacts on human rights, labor conditions, or local communities; or negative environmental impacts. Surprisingly, given recent exposes on child labor, workers' rights, and supplier Rio Tinto's abysmal environmental record, Nespresso checks "no" on all points except the conflict zones topic.
As part of attaining B Corp certification, companies are required "Make a legal commitment by changing their corporate governance structure to be accountable to all stakeholders, not just shareholders, and achieve benefit corporation status if available in their jurisdiction." This legal commitment is promising–indeed, such a reconfiguration is essential to breaking free of the profit-driven, extractive capitalism that is harming people and the planet we inhabit. Yet so far, this aspiration has not held up to the realities of shareholder capitalism. Despite B Corp's much touted "mission lock[1]," the CEO of B Corp Danone was forced out for focusing too much on sustainability and not enough on shareholder dividends.
Lastly, large multinationals such as Nespresso and those that are subsidiaries of other corporations have additional screening and transparency requirements. Setting a higher bar for bigger companies who have greater capacity to do harm is a good step. However, the process also underscores a fundamental issue with B Corp certification. The emphasis is on transparency. Yet,, as the Nespresso disclosures reveal, a company can deny recent violations, or mention them in the "Transparent Disclosures" document and still be certified.
Perhaps anticipating backlash, the B Corp blog post announcing Nespresso's certification emphasizes continual improvement and evolution, both of certified companies and of standards themselves. Yet despite this aspirational theme, continued progress is not mandatory for certification and some companies' scores have decreased over time without apparent consequences.
Human Rights Can't Be an Afterthought
While an in-depth analysis of B Corp's standards are beyond the scope of this piece, there is a disturbing thread that runs throughout. B Corp's model fails to meaningfully center human rights, both in the framing of their questions and in the ways in which scores are weighted throughout the assessment questionnaire.
An incisive article in the Stanford Social Innovation Review observes that,
While a number of human rights-related metrics are implicit in the [B-Corp Assessment], its overall tenor rewards companies for positive social behavior rather than requiring them to respect human rights, as the UNGPs assert. For example, where disclosure on corporate lobbying is solicited in the weighted part of the assessment, it mentions only positive lobbying—for example, to persuade the state to deliver on the provision of goods such as health and education. It does not mention the potential negative effects of corporate influence on politics that can undermine rights, such as pushing for the relaxation of worker protections."
Further, the weighting of the scores tends to prioritize the nice-to-have elements of a good work environment without putting emphasis on the fundamental human rights that should be protected for all working people.
An employee handbook is as close as many workers in the U.S. come to having a contract that spells out their working conditions. Yet this question is only worth 0.28 points. B Corp standards allow Nespresso to get full points for this category without critical provisions such as grievance processes or statements regarding the fundamental, internationally recognized right to bargain collectively and freedom of association.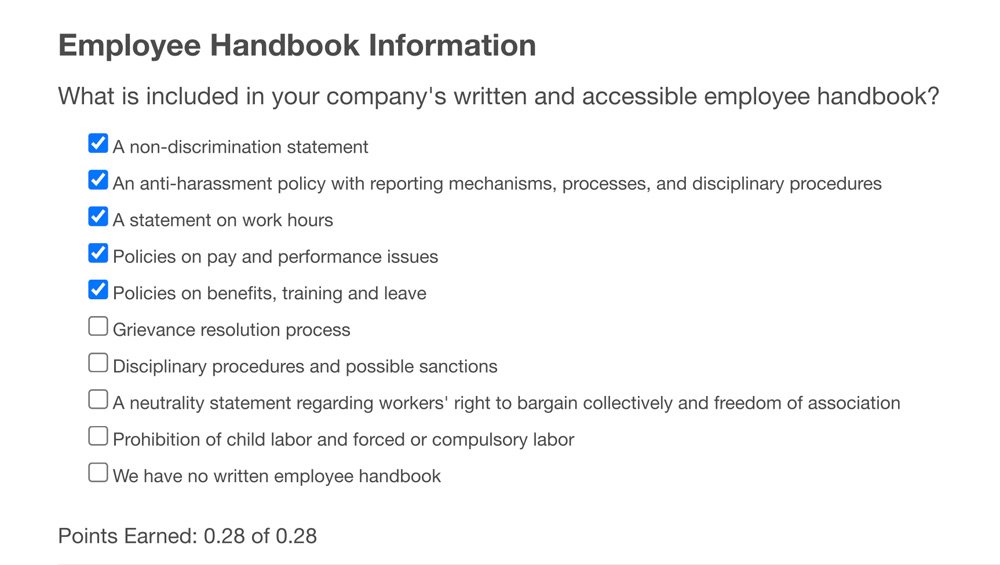 By comparison, employee health and wellness initiatives are worth 0.95 points–weighting health assessments, programs to get people counting their steps, and other nice-to-have perks above fundamental rights.
The distribution of points is even more concerning when one looks across categories. As the screenshot from Nespresso's Assessment shows, verifying that their supply chain is in compliance with local law, international human rights and environmental standards, is not a priority. And it does not need to be. These critical supply chain accountability measures count for less than employee wellness programs.

Other assessment questions assign just 0.21 points to having a supply chain code of conduct for suppliers and 0.35 points for having a stakeholder grievance process – other fundamentals that are once again acutely undervalued.
B Corp Certified: Accountability or Greenwashing?
After the Nespresso announcement, a small coffee company expressed concern on Twitter about what it meant to have a multinational with Nespresso's social and environmental profile B Corp certified. B Corp responded, "Becoming a B Corp means Nespresso now has both a verified framework & an influential community holding them accountable to continue to improve their social and environmental performance & be transparent about progress. Find out more about efforts so far: https://bit.ly/3ELLJjm." Yet both this accountability and progress are to be questioned. As the previous section made clear, B Corp's standards do not adequately reflect the sort of human rights focused criteria that would mean true improvement in what's being referred to as "social performance" here. Instead, it's far more likely that B Corp would help them fairwash and greenwash their business model–there is no minimum requirement for scores per category nor mandatory areas for high scores. A company could improve scores and ostensibly make progress without addressing core human rights issues – or supply chain abuses.
Further, there is no requirement that companies improve progress over time. For example, grocery store New Seasons Market's score has declined 33% over the time they have been a B Corp. The company's union-busting made headlines in 2018 and garnered five complaints to the National Labor Relations Board. Yet the B Corp response to activity which is in contradiction to labor law, as well as international labor standards is to have the company state their own case in a disclosure buried deep in their assessment profile. There is transparency on paper, but no requirement to address or remediate the harms caused.
In the last year, several other high profile cases have seen certified B Corps acting at odds with the commitment to put people and the planet ahead of profit. And it seemed that the "influential community" was strikingly silent, despite concerns and complaints of workers, farmers, and advocates for fair food. In 2021, certified B Corp Danone announced that they were dropping the contracts of 89 organic farmers in New England, citing the inefficiencies of incorporating these small farmers into an increasingly consolidated supply chain. Advocates raised complaints with B Corp, who responded with a statement making clear that consideration for the livelihoods of these farmers was a matter of "supply chain selection" that B Corp did not intervene in. It is a decision that is very much in line with the last 50 years of U.S. agriculture policy that has pushed farmers to "get big or get out," putting profit and efficiency first–and a decision that hardly seems in line with the rhetoric of transformation that B Corp puts forth.
In 2022, certified B Corp Amy's Kitchen came under fire with a boycott led by food advocacy organizations due to the company's union busting. Workers at Amy's are organizing given a long string of health and safety issues. The Teamsters' submitted a formal complaint, challenging Amy's Kitchen's certification and calling on B Corp to include workers in the resolution of the complaint:
It is impossible for B Lab to know from a checklist and a company's own self-assessment what conditions are really like for workers. I hope your investigation will consider the experiences of Cecilia and her co-workers and not just rely on the company's account.
As of this writing, B Corp has yet to respond, although they granted the certification in the midst of the workers' public union campaign. However, the company's statements make clear the value of B Corp certification to a company in presenting its values–and how readily the certification can be used to redirect and mislead those who might be concerned about human rights and labor violations. Further, it raises a large question regarding the role of workers in the accountability mechanisms of B Corp certification.
Will the B Corp Community Rise to this Challenge?
B Corp points to the existence of an "influential community" that will be instrumental in holding companies accountable. So far, we have not seen companies taking public stands to uphold the integrity that B Corp claims to stand for, or to hold other companies to the transformational standards they put forth. Some companies who count themselves as part of organic and fair trade movements have been outspoken in their concerns about the influence of multinational corporations and the status quo on those standards.
Does such a movement exist for B Corp as well?
It remains to be seen. However the certification of Nespresso, despite their strong association with multiple corporations with atrocious human rights abuses, and a product that's inherently wasteful seems like a strong test case for peer accountability.
---
[1] B Corp assessments denote the legal commitment required as "Mission Locked" on a company's profile, describing it as " A company with an Impact Business Model is intentionally designed to create a specific positive outcome for one of its stakeholders – such as workers, community, environment, or customers."